TopTech Fire & Security
For the best in access control systems, contact us today.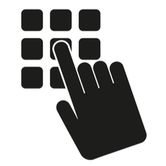 Access Control
Here at TopTech Fire & Security, we offer access control systems to customers in a range of different industries and sectors. These security systems are a way to make sure that only screened and authorised personnel have access to the premises.
Our professional team has the ability to design and implement access control systems that cater to all of our customer's needs. Our engineers have years of experience designing and installing security systems including single-door and multi-door networks, biometric access, visitor management, swing/slide gates, and even reporting or two-way speech systems.
Brands that we always suggest and implement on the security systems that we design include ACT and Paxton.
To learn more about our access control systems, contact us today.
Maintenance
Our team here at TopTech Fire & Security are able to maintain access control systems from one single door to multiple door networks. Depending on your needs and contract type, we offer at least one preventative maintenance visit per year.
Maintenance includes:
Checking that the system is fully functioning

Checking all integrated equipment

Checking the main and backup power supplies

Checking all door mechanisms and readers

Checking all keypads

Checking emergency release

Checking the request to exit operation

Making any minor adjustments

Reporting any findings
To learn more about our access control maintenance services, contact us today.
FAQ About Access Control
I have an access control system and am looking for a company to maintain it, can you do this?

Yes, here at TopTech Fire & Security, we are able to maintain a range of different types of security systems already installed including access control systems. Contact us today to learn more.

How much does an access control system cost?

The cost of your access control system will depend on a range of factors such as the type of system we are installing. If you are interested in an access control system, please give us a call to discuss your needs and we will be able to give you a quote.